After trying many mind mapping apps I found one I can truly recommend.
Here are the highlights of what captured my favor.
There is a desktop version.
There is an online version with the same interface as the desktop.
You can get a FREE version (limited to 3 maps, and no sharing).
Notes can contain graphics and text. (I am a heavy notes user)
Many Import and Export formats supported (including MindManager export in the Premium version)
Mindomo is the closest I have come to matching the features I like to use in Mindjet MindManager
The graphics are clean..(I'm not a fan of the organic layout I have seen in other apps. )
The Premium version allows you to share maps so others can view AND edit.
Signup for their free version today.  What are you waiting for? Its FREE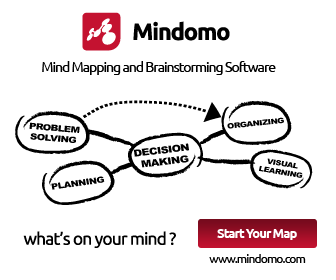 The Mindomo logo is not representative of the clean graphics (which I prefer) and could mislead you. This screen capture is a better representation of what it really looks like.
(Please use my affiliate link in this post so I can get credit towards a free month of Premium. You will help support my habit of sharing good information with you. Thanks.)
As the discovery continues here is what I found.
I can embed a map in a web site. This is not a static map. When I update the map the website displays the current version of the map. Click the image below and drag it around. Expand and collapse the topics.

Make your own mind maps with Mindomo.
Chat window for multi-user real time collaboration.
Several ways to publish a map in formats convenient for non-mappers to use.
Assign access to private maps and choose to give certain users permission to edit. A convenient link to the map copied to your clipboard so you can paste it in an email, chat window, forum post, and many other modes of communication that we use.
See who is online.
Set the display levels like you can in MindManager.

Example of how I used an embedded mind map to update as we progress through a series of training sessions.